In my opinion, one of the best places to practice Stand Up Paddle in Rio de Janeiro is at post 6 in Copacabana, well attached to the Copacabana Fort. Daily you can find several companies (that have tents with SUPs to rent) on the beach without much difficulty.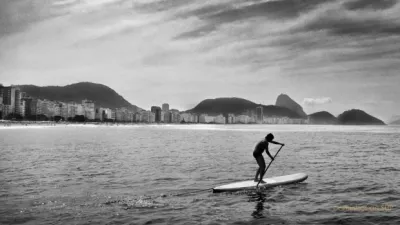 ---
---
Stand Up Paddle in Copacabana (Posto 6)
In my opinion, one of the best places to practice  stand up paddle    in Rio de Janeiro   is at post 6 in Copacabana, well attached to the Copacabana Fort. Daily you can find several companies (that have tents with SUPs to rent) on the beach without much difficulty.
You can rent an SUP on the beach to start your stand up paddle Copacabana session
I particularly like this region very much because the sea is very calm there and it is easy to go to the bottom coasting the Copacabana Fort. In addition, depending on the day and whether you are a tourist or not, you can have a snack at the Colombo confectionery inside the Fort and still enjoy the beach (Copacabana or Arpoador / Ipanema 5 minutes walking).
The demand for people wanting to do stand up is so great there that you will hardly practice this water sport (which is a variation of surfing) alone. In general, companies rent the SUP for 30 minutes or for an hour (with a cooler price).
1H rent stand up paddle Copacabana costs R$60 (about US$11/9€)
After entering the water and paddling to the bottom, on one side you will have the incredible view of the entire Copacabana beach (including the Sugarloaf Mountain in the background) and on the other side, making a wall for you, is the Copacabana Fort (you can get past the part where the cannons are, but usually the sea gets a little more rough, so it's not ideal for beginners):
Basically this is it, there is not much mystery, this is a really cool tour and I highly recommend it to tourists and cariocas.
But what do you need to do to start your  stand up paddle   Copacabana session and enjoy the fun? Let's see in details everything you need to enjoy SUP!
| Stand up paddle equipment | Image | Price | Buy |
| --- | --- | --- | --- |
| Inflatable Stand Up Paddle Board SUP Set for Kids & Adults Beginners and Advanced Riders | | $$$ | |
| Elite SUP Paddle | | $$ | |
| SUP Paddle Carry Bag | | $ | |
| Electric SUP Pump | | $$ | |
| SUP Storage Rack | | $$ | |
How to learn to Stand Up Paddle
Now that I have talked about everything you could want to know about how to practice SUP here in RJ, it is worth explaining to those who have never done it, how to learn this sport.
To be honest, there is not much mystery to learn how to ride a stand up paddle. Most of the places that rent the boards offer lessons for those just starting out, but I don't think it is 100% necessary. I prefer the motto go and win anyway, after all, you can wear a vest and at most you will fall a few times into the sea before you balance well.
It is even worth "wasting" about 5 minutes with the instructors to understand the basic movements of using  the paddle   and how to position the legs (parallel to each other), but other than that, I think it is best to go to the water to test your balance and really enjoy.
PS - if you are extremely awkward and like someone giving you a hand, it might make sense to have the class ...
Most instructors should be fine – at least, we are not aware of any problems with any  stand up paddle   Copacabana instructor, therefore it is money well spent.
1 hour stand up paddle Copacabana rent with particular instructor costs R$150 (about US$27/23€)
With an hour rent of the services of an instructor for your  stand up paddle   Copacabana session, you will spend about R$150 per person, which can surely be negotiated down per person if you are a group.
SUP modalities
As we are talking about Stand Up Paddle, it is worth getting a little more into the knowledge of what can be done on a board with an oar in hand:
Race - As the name implies, it is a stand up paddles race from one place to another and whoever arrives first wins the competition
Wave - this is a variation of our famous surf. In these cases, instead of using the board, most famous for those who are just starting out, it is quite common to see boards with a shape closer to traditional surfboards.
Rafting - This modality is only for those who are really radical and have adrenaline in their blood, because going down a rapids while balancing on a board and nothing else is for a few
SUP Yoga - here all Yoga movements are done right on the board. Although it seems a little unusual, this modality has attracted more and more practitioners, including the Copacabana beach itself, at post 6, as in the photo below:
Crossings - Usually because it involves a longer route, a minimum of knowledge is required from the students who are going to participate. Here in RJ the most famous ones are for the Cagarras islands, for the Tijucas islands, between post 6 and Arpoador and from Leblon to São Conrado
Who to hire
Every time I went to stand up here in RJ I went to the first tent I found and I never had any problems, so I don't have a specific name to indicate, but if you want references, I separated some that you find in a search on Google and that has minimally decent or updated sites:
I hope you enjoyed the post and go practice a little  stand up paddle   in Copabana – or elsewhere!
---
---
---