There is a massive stigma surrounding mountain biking, especially that of enduro and downhill. With most that don't ride describing the sport as extremely dangerous and reckless.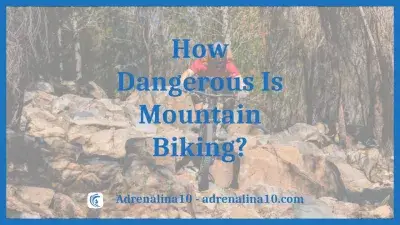 ---
---
How Dangerous Is Mountain Biking?
There is a massive stigma surrounding mountain biking, especially that of enduro and downhill. With most that don't ride describing the sport as extremely dangerous and reckless.
But how dangerous is mountain biking, really??
Compared to contact sports such as rugby, soccer, basketball and ice hokey, mountain biking doesn't even come close to being as dangerous if you look at the big picture.
Is mountain biking dangerous? Not as much as contact sports like rugby, soccer, basketball and ice hokey
Growing up I played rugby, and looking back I cannot recall a single game where everyone walked off the field in one piece. Where as, from my experience in mountain biking, most of the time I see nothing more than a scraped knee.
Sure, if a sport is categorised as an 'action' sport there is bound to be dangers, but that shouldn't be all that defines mountain biking. There are so many levels and aspects that cater for all mountain bikers, from the weekend trail riders to the daring downhill seekers.
Mountain biking risks
The most common risk in mountain biking is unpreparedness. Too many times a beginner will attempt a run far out of their league. And with any action sport, this is a recipe for disaster.
Biggest risk of dangerous mountain biking is unpreparedness
I believe this is mainly due to the fact that most people, from a young age, learn how to ride a bike and are therefore under the notion that they can already mountain bike… but riding mountain bike trails is completely different from riding on a footpath or road.
Taking on the hardest trail in the park straight off the mark is dangerous in any sport. But once you progress and learn the right technique for mountain biking, the risk decreases dramatically.
Is mountain biking safe? Yes, if you prepare yourself correctly
So lets take a look at what you can do to make mountain biking safe and enjoyable over every discipline of riding.
Best protective gear for mountain biking
The first step in protecting yourself and avoiding most common mountain biking risks is to acquire the best protective gear for mountain biking. This list will help – and the next step is to read the full guide to enjoy mountain biking!
| Protective gear for mountain biking | Image | Price | Buy |
| --- | --- | --- | --- |
| Full face helmet | | $$ | |
| Open Face helmet | | $ | |
| Knee pads | | $ | |
| Elbow pads | | $ | |
| Mountain bike shoes | | $$ | |
| Mountain bike specific jersey and shorts/pants | | $$ | |
| Mountain bike goggles / glasses | | $ | |
| Body armour | | $$ | |
| Quality mountain bike | | $$$ | |
| Mountain bike gloves | | $ | |
| Protective gear for mountain biking | Image | Price | Buy |
How To Avoid The Risks Of Mountain Biking
Know Your Level
The number one rule is to be smart. Know your level and go through the steps of progression, rather than jumping straight into a black run. Sometimes adrenaline and thrill take over and you want to hit the gnarly stuff right away, but of course, this is where injuries can and will happen!
Slow down, don't rush and learn all you need to know before taking the next leap. In doing this, you'll love every moment out on the trails and the risk will decrease dramatically.
Research The Trails
A mountain bike trail is extremely versatile. The weather, climate, type of dirt and terrain are but a few of the factors that make up a trail. If you're used to riding in dense forest with moist dirt, riding on the coast through dry and loose terrain will be a huge shock as you lose almost half of your usual tyre traction.
Thinking all trails are the same and that if you can ride your local blue trails, you can ride all blue trails is where one can come unstuck. Research what type of trails you're planning to ride before jumping on your bike.
And what better place to check than Youtube? I can guarantee at least one person will have videos of the trails you're planning to ride… and if not, maybe that place isn't for beginners at all!
Scope The Trail
Riding blindly over an obstacle or jumping before scoping the landing is one of the most common reasons for injury. If you've never ridden a trail before and come to a jump or technical section, jump off your bike and scope out the section before hitting it.
For one, it will ensure you ride the obstacle so much better and for two, you may just avoid a nasty surprise!
Get In Shape
Some people are under the notion that downhill mountain biking is not very physically demanding.
Boy are they wrong!!
Even if you're not slogging up the trails, the downhill trails take every ounce of energy you can give. All of your muscles will be firing at once as you tense for what's coming. Not to mention the close concentration you need to hold.
Training your body and mind to a level of fitness capable of withstanding long rides and technical trails is paramount for success. Most mistakes - if not caused by a lack of the above tips - comes from fatigue, from not being able to apply 100% focus and determination.
Just the other day I was almost stopped in my tracks with cramping in my hands as I attempted a double black downhill trail. Needless to say, I was not at my usual fitness level and was lucky to get down that mountain in one piece.
Make sure you're in good shape before embarking on a big ride. And as I've said before, start small and learn your limit.
Practice Practice Practice
I'm guessing you saw this one coming! Practice makes perfect… or at least lessens the risk of injury!
Here are our best tips to improve your mountain bike skills.
We've all heard this saying before and we're all probably a little sick of it. But we can't deny that it's so true. If you practice continuously, you reduce your risk of injury dramatically. And, it's fun! So I can't see a reason not to?
Protective gear for mountain biking
I've saved this until last because as much as protective gear is important and should be worn accordingly, it's the above tips that will save you from a nasty crash or injury. Protective gear can help in the event of a fall but we want to avoid the fall all together.
In saying that, here is a list of the best protective gear you should consider purchasing if you're leading to a life of mountain biking:
For any trails that are classed as downhill or enduro, I highly recommend a full face helmet. Some mountain bike parks won't even allow you to ride these trails if you don't. The best helmets have MIPS (multi-directional impact protection system) so look for the yellow dot.
This helmet is great for any cross country trail riding, but be sure to get mountain bike specific helmets, they're more sturdy than your regular cheap one form Kmart… The best helmets have MIPS (multi-directional impact protection system) so look for the yellow dot.
These guys are the most essential after a helmet. If not for keeping your knees and shins from scrapes but also to save your legs from the damn spiky pedals on your mountain bike when your foot slips.
For the downhill and enduro trails, elbow pads are a great protection against gravel rashes. They're not as necessary for cross country.
Until you try a pair, you won't believe the difference they make in grip on the pedals. And having this extra grip will send your confidence skyrocketing.
A three quarter or long sleeve jersey is important to keep most of your upper body safe from grazes if you come off. These and the shorts/pants are more durable than regular cotton clothing and are great for breathability.
Another big factor in injuries is getting something stuck in your eye and falling off due to loss of concentration. Keep those eyes safe with goggles or sunglasses.
While body armour is at the extreme end of protective gear, a good set can be a great companion for racers or gnarly downhill riders alike. I wouldn't recommend investing in something as full blown as body armour unless you're hitting some serious stuff or are extremely accident prone.
We are constantly asked if mountain biking is dangerous and worth the risk.
My answer, absolutely mountain biking is worth the risk. The risk can be drastically reduced by following the above steps and the reward is monumental. Not only is the thrill insane, but the skills you can acquire from mountain biking is endless.
How dangerous is downhill mountain biking? It can be safe if you follow basic advice and get the right protective gear for mountain biking
Concentration, problem solving, patience is but a couple of the personal skills I have learnt through mountain biking and boy do I still have a long way to go…
Finding the right trail for you is also important. If you're not so keen on sending it down a steep and rocky descent, maybe try cross country trails. There are so many different trails to choose from and all of which are not as dangerous as we are lead to believe if you know what you're doing.
So get out there, give it a go and find the right trail for you!
---

About the author - Michel Pinson
Michel Pinson is a Travel enthusiast and Content Creator. Merging passion for education and exploration, he iscommitted to sharing knowledge and inspiring others through captivating educational content. Bringing the world closer together by empowering individuals with global expertise and a sense of wanderlust.
---
---
---