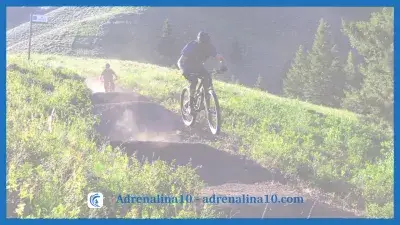 ---
---
Soldier Mountain is opening its new  mountain bike   park for the summer this Friday, May 21, after the Phillips Fire prevented the resort from opening it last summer. It will be open Fridays, Saturdays, and Sundays, as well as Memorial Day and Labor Day, through the end of October depending on weather. Operating hours are 1:30-7 p.m. Fridays, 11 a.m. to 7 p.m. Saturdays, and 11 a.m. to 4 p.m. Sundays and holidays.
The resort is staging a grand opening celebration this Saturday, May 22, from 1:30-4:30 p.m. featuring a live band, a 50 percent discount on in-person lift ticket purchases, a free dessert with ticket purchase, swag giveaways, great food, and local craft brews.
Tickets normally cost $29 for adults (ages 18-69) and $24 for youth (ages 9-17). The resort extends seniors (ages 70+), veterans, and military personnel a $10 discount. Adult and youth summer season passes are currently reduced to $179 and $129, respectively, through June 15
Guests who buy ski passes for the 2021-2022 season now at soldiermountainseasonpass.com can ride  the bike   park for free for the rest of the 2021 summer season. Season ski passes cost $449 for adults (ages 18-69) and $239 for youth (ages 6-17).
SOLDIER MOUNTAIN SEASON PASSES – Soldier Mountain
Now one of 11 Ski Idaho resorts offering lift-served mountain biking, Soldier Mountain boasts 7.7 miles of gravity mountain biking on four new trails.  the bike   park was designed and built by Hailey-based Titus Trails and Apex Trail Construction from Park City, Utah, with generous help from Southwest Idaho  mountain bike   Association, Wood River Trails Coalition, and other volunteers.
The trails are made for all skill levels and consist of easy, intermediate, advanced hand-cut, and extreme machine-cut jump trails. Soldier Mountain has also added a skills park and plans to add a longer, hand-cut intermediate trail this summer.
Having had the opportunity to preview Soldier Mountain's new trails, I am thrilled with the addition of a new lift-accessed bike park in our region, Julian Tyo, a Wood River Trails Coalition board member, said. The progression built within the network is pitch perfect, with a playful, family friendly green trail and a black jump trail that is the real deal. With a blue jump trail currently in the works by Titus Trails, I'm confident the offering the Soldier Mountain team is creating will appeal to bikers of all abilities.
Ketchum-based Idaho Cycles will have its mobile bike studio on hand for guests who have bike repair or tune-up needs.
We're excited to be opening our bike park, Soldier Mountain's general manager, Paul Alden, said. These trails are built to world-class standards, and we look forward to being the preferred local mountain-biking destination for riders of all ages and abilities.
Alden said Soldier Mountain will have limited  mountain bike   rentals due to current  mountain bike   and bike parts supply chain issues that have persisted due to the COVID-19 pandemic.
ABOUT SOLDIER MOUNTAIN
Soldier Mountain Ski Area is an alpine ski area in the western United States, in the Soldier Mountain resort of the Peelous National Forest in south-central Idaho. Located 12 miles north of Fairfield in the very rural area of Camas County. On the east-facing slopes, there are two chair lifts connected in series.
Established in 1947, Soldier Mountain is a family friendly mountain resort located near Fairfield, Idaho, in the Soldier Mountains of the Sawtooth National Forest about two hours from Boise, 80 minutes from Sun Valley, and 90 minutes from Twin Falls. The resort offers four mountain biking trails during the summer months, and backcountry snowcat skiing and snowboarding and 35 named trails during the winter. Soldier Mountain has two chairlifts reaching an altitude of up to 7,177 ft. and a magic carpet. Its lodge restaurant serves homemade fare while The Fox Den Pub provides guests with a cozy spot to hang out after a great day on the mountain. Camping spots are available at the end of the resort's parking lot at Pioneer Campground and along the road beyond, and motel lodging and vacation rentals are available in Fairfield about 10 miles away.
Visit soldiermountain.com for more information.
---
---
---