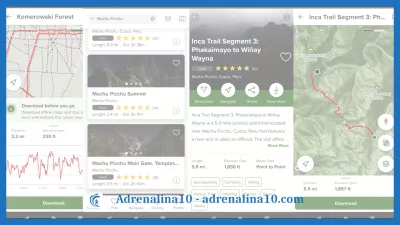 ---
---
Today is the day to talk about free apps for trails. At the end of the day I'm going to talk about 6 apps, but I strongly recommend that you download all of them (after all, you don't pay anything for that), test your tracks and get what you like best.
My Tracks
I believe that the My Tracks app is one of the most reliable free apps for trails and is the one I have been using (and that's why I recommend it). It will have the main features that most apps have:
GPS functionality
Track recording
Synchronization with Google platforms (Drive, Fit, Earth)
Graphics
Statistics
Sharing
Although the images are in English, the application has the translated version, entirely in Portuguese. Simple to use and reliable (at least with me).
Wikiloc
What I find most cool about Wikiloc (although I don't use it in my daily life) is the fact that it has several members. There are more than 1,300,000 members, who have already shared more than 3 million tracks and 5 million photos.
If you are a fan of sharing, you can find a good international community in this app. In the application you can record your track, view recorded tracks, observe destinations and adjust items such as a compass, GPS accuracy, among other items.
Orux Maps
This is another one that has several features and you will use it to the detriment of the others depending on your taste. It is worth doing a test and see all the possibilities.
See a little of what the OruxMaps screen looks like:
GPS Essentials
This is perhaps one of the coolest (and confusing) trail apps I've ever seen. It has several features and the coolest thing in my opinion is the possibility that it gives you to create dashboards. Although it gets a little confusing at times, you can view data such as latitude, longitude, speeds, number of satellites, mark waypoints, record tracklogs, view graphs and more. There is also the possibility to export the data to KML or GPX.
All Trails
Despite being a typical American application (and because of that in English), it has its value. You can get on well with him and record his tracks. With this you will have a sense of the time it took to do, you will be able to see the entire route traveled and even save your route.
For example, you will find on this app the famous Inca trails that are leading to the amazing Machu Picchu in Cuzco, Peru.
Now, let's see some exclusive apps for those who are from Rio:
Carioca trails
Trilhas was conceived by E-Trilhas in partnership with RioTur and manages to achieve a very interesting objective of publicizing the main trails  in Rio de Janeiro   by areas.
For each track you will find texts on what to see, what to do and what to know. Despite not being super explanatory or showing precise maps, it gives you a good idea of ​​where each trail is and the main attractions of them.
Rio Trails
This is a very simple and cool application. After downloading you will have a list of about 30 tracks you can do in Rio de Janeiro:
For each of these trails you will be able to see photos, comments, level of difficulty of the trail, average duration, altitude and other cool details as you can see in the image below:
Free hiking apps, which one do you use?
I hope you enjoyed our list of app suggestions. If you use any other app, tell us what it is and what advantages you see in it!
---
---
---