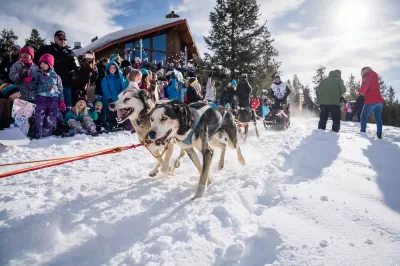 ---
---
The Idaho Sled Dog Challenge is returning to the West Central Mountains of Idaho Jan. 30-Feb. 3 during the 2022 McCall Winter Carnival. This year most events will be staged in Cascade at the Lake Cascade boat ramp on Lake Cascade Parkway between Lakeshore Bar & Grill and the Van Wyck Campground.
Celebrating its fourth year after the COVID-19 pandemic put the race on hiatus in 2021, the Idaho Sled Dog Challenge features world-class mushers. It is the only 300-mile Yukon Quest qualifier in the lower 48 and one of only three such events for the Iditarod in the contiguous continental U.S.. The Iditarod and the Yukon Quest are considered the longest and the toughest sled dog races in the world.
The Idaho Sled Dog Challenge is part of the Rocky Mountain Triple Crown, which also includes the Eagle Cap Extreme Jan. 19-22 near Joseph, Ore., and the Race to the Sky Feb. 11-15 near Helena, Mont.
According to one of the principal volunteers and spokespersons, Dave Looney, the Idaho race is considered one of the most grueling mushing competitions in the world due to its topography.
Mushers will tell you this is a very, very atypical race, Looney says. Our elevation change is 36,000 feet, which is greater than the Iditarod. They call it a 500-mile race packed into 300 miles. So the dog care and the pacing and the attention they have to pay to the terrain is really important, because there's a lot of up and down. One musher said the Idaho Sled Dog Challenge is like climbing Mt. Everest -- twice.
In addition to the 300-mile Iditarod and Yukon Quest qualifier, this year's Idaho Sled Dog Challenge offers a 100-mile race for people newer to the sport. Organizers are not staging a junior race this year.
Idaho dog sledding have become very popular today. It is not only a serious and difficult sport, but also a great entertainment. Today, everyone, without special skills, has the opportunity to try a dog sled ride with the breeze. All it takes is desire and courage. This exciting winter adventure can bring pleasure to all lovers of extreme sports.
For professionals with dogs, this is a difficult sport. The essence of which is the passage of various distances for a while.
The race is operating under special use permit from the U.S. Forest Service, and organizers have maxed out their permit, which allows for 25 mushers and dog teams. Thirteen will vie in the 300-mile race and 12 will compete on the 100-mile course. Four are on the waitlist for the 100-mile event in case any teams drop out prior to the races getting underway.
Idaho Sled Dog Challenge founder and organizer Jerry Wortley says this year's mushers include Iditarod and Yukon Quest veterans, including 2018 and 2020 ISDC 300-mile-race champion Jessie Royer. Born in Idaho and raised on a Montana cattle ranch, Royer is considered one the mushing world's top contenders and she placed third in the Iditarod in 2019 and 2020 and 13th in 2021.
This year the Idaho Sled Dog Challenge has attracted teams from seven states, with father and son Gregg and Bailey Vitello from Milan, N.H., being the first mushers from east of the Mississippi to compete here.
Six Idahoans are on the roster. Jed Stephensen from Sandpoint and Jacob McCowan from Priest River registered for the 300-mile race, while Jeneen Loeliger-Myers from McCall, father and daughter Bryce and Anna Mumford from Preston, and Elizabeth Nevills from Middleton are competing in the 100-mile event.
Bryce Mumford won the Eagle Cap Extreme's 200-mile race in 2017. There are actually three generations of the family along this year with Anna's grandfather Rex Mumford from Utah also competing in the Idaho Sled Dog Challenge's 100-mile race.
The remaining mushers hail from Colorado, Montana, Oregon, and Washington.
Wortley says the Idaho Sled Dog Challenge boasts top-notch veterinarians, too.
We have some great vets from the West Central Mountains and from the Boise area and they've all worked on the Iditarod, he says. As part of our safety regimen we insist on great dog care, so we have a lot of medical talent. We want to see the sport flourish, and we can't do that without taking good care of our animals.
Looney says they couldn't stage the race without help from the local snowmobile clubs, too.
Our race course has to be groomed, because there's so much vertical that the dogs can't pull sleds uphill in deep snow, he says. Valley County grooms our trails, and part of the dues you pay as a member of a snow machine club in Valley County or Adams County goes towards the gas the county uses for their groomers.
Spectators can follow the race online day and night vi A GPS   sled trackers or by visiting five road-accessible checkpoints.
Both races start at the Lake Cascade checkpoint this year, with the 300-mile race finishing there, too, and the 100-mile race finishing at the Wye Trailhead & Campground checkpoint near New Meadows. There are three other road-accessible checkpoints: the Little Ski Hill in McCall, the Platt Warming Hut on West Mountain Rd. in Donnelly, and Wellington Snow Park in Smiths Ferry. A new, sixth checkpoint at 3rd Fork Cabin is not accessible by road.
Race events that are open to the public and free of charge include:
Vet checks and meet the mushers -- Jan. 30 from 10 a.m. to 3 p.m. at the Lake Cascade boat ramp between Lakeshore Bar & Grill and the Van Wyck Campground
300-mile start -- Jan. 31 at 1 p.m. at the Lake Cascade boat ramp
100-mile race start -- Feb. 1 at 1 p.m. at the Lake Cascade boat ramp
100-mile race finish -- early morning Feb. 2 at the Wye Trailhead & Campground checkpoint off U.S. Route 95 about 6 miles west of New Meadows (turn east on Tamarack View Dr. at the Wye Trailhead sign)
300-mile race finish -- Feb. 3 from early morning to midday at the Lake Cascade boat ramp
There is no event parking at the Lake Cascade checkpoint (i.e., the race starting line at the boat ramp), so organizers have arranged for busses to shuttle spectators there from a nearby parking area. Wortley says to plan to arrive early and catch a bus at Davis Ranch off ID-55 one-half mile north of town at 19 Warm Lake Rd., Cascade, ID 83611.
Busses will run about every 20 minutes from the large, plowed parking area Jan. 30-Feb. 1. They will shuttle spectators to the Lake Cascade checkpoint from 9:30 a.m. to 12 p.m. Jan. 30 and 9:30 a.m. to 12:30 p.m. Jan. 31-Feb. 1. Busses will return them to the parking lot from 2-4 p.m. all three days.
Optimal times for watching mushers and their sled dogs arrive and depart the other checkpoints include:
Little Ski Hill -- early to mid-morning Feb. 1; early to mid-morning Feb. 2
Platt Warming Hut -- early afternoon to late evening Feb. 1
Wye Trailhead & Campground -- early to late morning Feb. 1 for the 100-mile race finish; early morning to early afternoon Feb. 2 for the 300-mile race check-in
Smiths Ferry -- midday to late evening Feb. 2
Estimated checkpoint times can vary by many hours depending on trail conditions, so race officials encourage spectators to monitor the trackers when planning checkpoint visits. Visit idahosleddogchallenge.com for checkpoint locations, driving directions, a local resources guide, musher bios, and more.
In addition to the race starts and finishes, we highly encourage visiting our five road-accessible checkpoints as the races progress, Wortley says. Watching and cheering for the teams along the trail as they arrive and depart the checkpoints and witnessing firsthand how the mushers care for their dogs as they get some much-deserved rest is an unforgettable experience.
The race is seeking volunteers to help with everything from handling dogs to managing parking, setting up and staffing checkpoints, providing food, operating ham radios, putting up fencing, moving straw bales, and assisting at the start and finish lines. Visit idahosleddogchallenge.com/volunteers for a list of available positions and to sign up.
Perpetua Resources, Cascade Chamber of Commerce, Idaho First Bank, Cascade Hardware True Value, Cascade Medical Center, Cascade Veterinary Clinic, DoneRight Management, Krahn's Home Furnishings, McCall Jewelry, Watkins Pharmacy, Brundage Mountain Resort, North Fork Coffee, Redline Rec Toys, have signed on as official sponsors of the race. In addition, Alpine Inn, Ashley Inn, Cascade Rec Center, Davis Ranch, DF Development, Dr. Dawn Sessions of Nampa, Lakeside Restaurant, Mountain Adventure Rentals, Napa Auto Parts, Shamrock Foods, and SSN Laser Trophy are in-kind sponsors.
Wortley says opportunities are still available to help bankroll the race -- which is now a 501(c)(3) nonprofit -- ranging from $100 to $10,000 and are tax deductible.
---
---
---