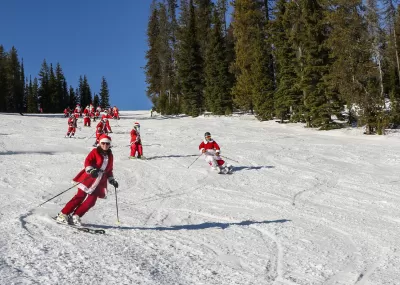 ---
---
Skiers and snowboarders throughout Idaho have much to celebrate this holiday season, with at least 16 Gem State ski areas either already open or opening before the New Year.
All three ski areas in North Idaho -- Lookout Pass Ski & Recreation Area (skilookout.com) near Mullan, Schweitzer (schweitzer.com) near Sandpoint, and Silver Mountain Resort (silvermt.com) in Kellogg -- are open for the season.
Two North Central Idaho ski areas -- Bald Mountain (skibaldmountain.com) outside Pierce and Snowhaven Ski & Tubing Area (grangeville.us/snowhaven-ski-and-tubing-hill) in Grangeville -- will be open for the holidays. Snowhaven opened last weekend and Bald Mountain will begin operations Dec. 26. Cottonwood Butte Ski Area (cottonwoodbutte.org) near Cottonwood hopes to open Dec. 26, but it is waiting for power to be restored after a huge storm recently downed lines across the Camas Prairie.
All four ski areas in Southwest Idaho -- Bogus Basin Mountain Recreation Area (bogusbasin.org) near Boise, Brundage Mountain Resort (brundage.com) near McCall, the Little Ski Hill (payettelakesskiclub.org/little-ski-hill) in McCall, and Tamarack Resort (tamarackidaho.com) near Donnelly -- are open for the season. Brundage celebrated its 60th birthday last month.
Two Southern Idaho ski areas -- Pomerelle Mountain Resort (pomerelle.com) near Albion and Soldier Mountain (soldiermountain.com) near Fairfield -- are open for the season. However, Magic Mountain Ski Resort (magicmountainresort.com) near Hansen needs more snow to open.
Sun Valley Resort (sunvalley.com) in Central Idaho is open daily. North America's first destination ski resort and the birthplace of the chairlift, Sun Valley celebrated its 85th birthday today and was recently recognized for the second consecutive year as the top U.S. ski resort in SKI Magazine's annual resort guide. The region's other ski areas, Lost Trail (losttrail.com) on the Idaho-Montana border near Conner, Mont., and Rotarun (rotarun.org) in Hailey, are also open for the season.
Two Eastern Idaho ski areas -- Kelly Canyon Ski Resort (kellycanyonresort.com) in Ririe and Grand Targhee Resort (grandtarghee.com) in Alta, Wyo. -- are open for the season. The region's remaining mountain -- Pebble Creek Ski Area (pebblecreekskiarea.com) in Inkom -- anticipates opening just in time for the holidays Dec. 24.
Idaho's ski areas are following the National Ski Areas Association's Ski Well, Be Well guidelines for COVID-19 safety. Please visit skiidaho.us/covid for more details.
The Idaho Peak Season Passport -- which lets 5th graders ski or board three days for free at ski areas throughout the state and offers 6th graders two days free at each mountain -- is a great, last-minute holiday stocking stuffer. Complete the application available online at skiidaho.us/passports and pay an $18 processing fee to order a passport for your child. Ski Idaho will email you a passport you can print out and place in your 5th and 6th graders' stockings. Children must have a parent or guardian present with them to use the passport, and they must show their passport (a printout or on a smartphone) to receive the lift ticket.
ABOUT SKI IDAHO
Skiing is a major part of the ski areas in Idaho. Also, this resort is worth choosing for its other advantages and features. Accommodations, sledding, mountain coasters, food, and trails are important factors that propel Idaho to the top of the rankings.
Idaho is an outdoor enthusiast's paradise, with many mountain ranges and a skiing paradise. And every fan of this sport must visit this place.
Founded in 1982, the Idaho Ski Areas Association, a.k.a. Ski Idaho, is a nonprofit association funded in part by the Idaho Travel Council via the state's 2 percent lodging tax paid by travelers and collected by hotel, motel, and private campground owners. Boasting 28,000 vertical feet of terrain spanning more than 20,000 acres, Idaho is the birthplace of lift-assisted skiing, home to America's first destination ski resort, and often considered the soul of skiing. Its family friendly alpine ski areas offer trails and backcountry for skiers and snowboarders of all ages and skill levels, breathtaking views, hundreds of inches of fresh powder, and short lift lines. Many Ski Idaho destinations open for the summer season, as well, to serve up lift-served mountain biking, scenic chairlift rides, hiking and trail running, disc golf, and more. Visit skiidaho.us for more details.
---
---
---