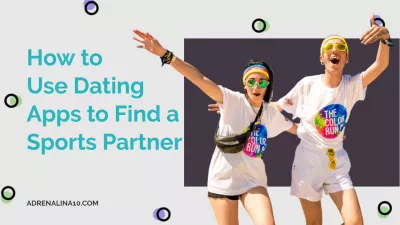 ---
---
A definite plus of all dating sites and applications is that they can set the search criteria that are important to you. When registering on such a site, each person fills out a questionnaire about himself: hobbies, interests, etc. He also indicates who he would like to find. That is, if you enter the correct parameters, you can easily browse fitness singles.
Dating apps are an opportunity to quickly get to know a person, find out his interests and understand whether you need to spend time on him.
Finding a sports partner has never been easier, thanks to fitness-focused dating sites such as Fitness Singles, Datefit, Coffee Meets Bagel, Happn, and Sweat.
The  best hookup sites 2021   are great for finding new lovers, but other apps are more suited to locating your new sports partner. In this article, we will show 5 apps which will help you find a sports partner so you can get some exercise.
Fitness Singles
Fitness Singles is the largest sports partner-centric dating site in the world. The site has over 40,000 active weekly users from the US alone. Fitness Singles is the perfect sports partner finder service as they connect athletes from all backgrounds, including running, tennis, rock climbing, Yoga, CrossFit, and gymnastics. When signing up, users must select 3 sports they are interested in and mention their skill and experience level. Daters can then browse people's profiles based on sports, making it easy to find your next gym partner.
With such a large user base, you will be able to find a sports partner who loves your chosen discipline as much as you do. The only downside to the site is that it is paid and currently costs $39.99 for 1 month, but if you pick up a 6-month membership, the price drops to $14.99 per month. However, that hasn't stopped thousands of users not only finding a sports partner but also a lifelong partner.
Datefit
Datefit like Fitness Singles is a find a sports partner app and dating site. This site was only launched in 2018, but since then, they have taken the active and fitness dating world by storm. Datefit has over 100,000 users. The sports partner app is more than just a hookup service for fitness freaks. It also seeks to cultivate healthy living and promote general wellness through hosting sports partner events and building a like-minded tribe through its active social media community.
The cool thing about Datefit is that the app allows users to share information on their profiles about their fitness goals, specific diets they are following, favorite sports, and training schedule. Daters can then use this information when searching for matches. While the dating site has a free app, if users want to message potential sports partners, they will have to pay a fee that starts from $10 per month.
Coffee Meets Bagel
While Coffee Meets Bagel is not a specific sport dating site like Datefit or Fitness singles, it has a lot of fitness enthusiasts. According to research done by the site, over 40% of their users enjoy regular exercise, and over 20% play sport. So if you do manage to find a potential date on Coffee Meets Bagel, it is likely they could also double as your new partner in sport.
If you aren't just after a partner to play sports with, Coffee Meets Bagel is ideal for you as it boasts the most educated user base of any dating site. Over 90% of its users hold a bachelor's degree, and astonishingly, over 33% have a master's. On this site, you are bound to run into graduates from prestigious colleges such as Harvard, NYU, Stanford, Michigan, Penn, and Berkeley. Coffee Meets Bagel also has extensive free options, so you can save money for that latest tennis racket, new soccer boots, or a brand-new set of golf clubs.
Happn
Did you always dream of dating that sports partner you see in the gym or at the swimming pool? Well, with Happn, you can not only find that sports partner, but you can message them to get the dating process started. Happn uses the location services on your phone and real-time data to allow you to connect with other Happn users who are in your immediate vicinity.
If you are lifting weights in a gym or running in a park and come across a cute potential date, you can just open your Happn app and send them a message. With Happn, you won't have to worry about awkward cold approaches or being rejected because your dream sports partner is already taken.
Sweatt
Sweatt is one of the first sports partner finder sites and has continued to grow and develop since being founded in 2015. On the Sweatt app, users have to fill in information about the time they prefer to work out to stop morning training addicts from being matched with late-night trainers. They also need to add how often they hit the running track or smash the weights and what is their sport of choice.
The dating site is powered by an algorithm that can take all that data and consideration and match you with the perfect sports partner. For example, if you enjoy playing tennis on Thursday and Saturday evenings, you won't have to worry about matching with an early morning runner.
Conclusion
Finding the perfect sports partner is not easy. However, thanks to our selection of the best sports partner forums and dating apps, you will be able to mix your hobby with love and find a date who is as obsessed with working out as you are.
Check our list of the best sports partner dating sites:
Fitness Singles - The largest sports partner dating site in the world with over 2 million users that has been around since 2003
Datefit - New app that is all about promoting a healthy lifestyle by connecting fitness enthusiasts
Coffee Meets Bagel - One of the largest dating sites in the world where over 40% of its users say they enjoy regularly working out, with so many users finding a partner will be easy
Happn - Allows you to message people in your location, perfect for connecting with fellow gym-goers and partners
Sweatt - The Tinder of fitness dating, if you love sport, then you need to be on this app
We would love to hear if you have used any apps to find a sports partner. Please comment below on which app you found the best and how your training is going with your workout buddy!
About the Author:
Robert Faulkner is a family and child psychologist. He has been working with couples of different ages and wants to share his thoughts about relationships with you. Robert's hobby is traveling inside the UK and abroad. He has visited more than 15 countries, including the USA, Spain, France, the Netherlands, etc. One of Robert's biggest dreams is to take a photo on the top of Everest.
---
---
---