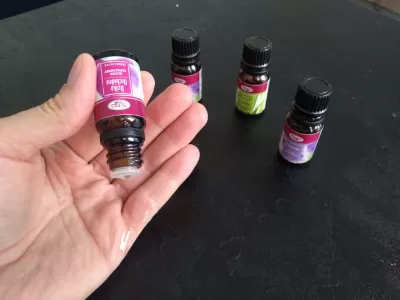 ---
---
The significance of essential oils in dealing with different health issues is undeniable, and they have been used for centuries for many health purposes.
Hiking or camping in the summer season can be a pure delight. However, before hitting the trails, you should take some necessary measures to protect yourself from the scorching heat of summer. Summer is a peak season for maintaining personal health care. Whether you're venturing off into the woods or engaging yourself in outdoor activities under the burning sun, or soaking up vitamin D by the pool, catch the pleasure of scorching sunny days with essential oils by your side. Many essential oils, particularly   Tea tree oil   are fundamentally the best oil to have on hand during the summer to relax, comfort, and relieve yourself.
As summer approaches, people tend to head toward the time spent outdoors to camp or hike. Camping and hiking are relishing summer activities to get outside and spend time at the beach, by the pool, at the camping area, and other outdoor places. However, while enjoying, these activities often come with several unpleasant natural aspects: bug bites, sunburns, aching joints, and poisonous plants. For dealing with every challenge that comes your way, a natural, healthy and easy solution is here. Essential oils!
Here are enlisted some of the best five essential oils for summer that will assist you to relish every moment of your hiking;
Peppermint essential oil:
Peppermint essential oil is one of the must-have oil to have in your hand when on a scorching, challenging trail. Peppermint is a refreshing oil that can help cool you off, relieve your stress, keep your energy levels in elevation and alleviate pains and discomforts.
This oil is energizing and cool to use during camping, hiking, gardening, or anytime you're doing some tiring outdoor activities and need to chill! While camping or hiking, people often experience some muscle or joint pains. You can apply peppermint oil on sore muscles if you begin to feel discomfort while hiking or camping. 
Hikers who want to improve their energy levels and protect themselves from sunburn relief can also use peppermint oil and breathe in the aroma. You can also make a cooling spray by adding some drops of water in the peppermint oil to spray it on the back of your neck when facing scorching heat. 
The benefits of peppermint oils are undeniable. However, while using it needs special care and precautions; taking care to avoid your eyes, if you do, rinse them with plenty of water or a seed or vegetable oil).
Lavender essential oil:
Lavender oil is another great option to opt for in the summer season. Lavender oil is another great option to opt for in the summer season if you spend too much time in the great outdoors under the burning sun. The soothing properties of lavender essential oil help to relax and cool you off. It can also help relieve the skin rashes, itching, or dry skin that often go along with hiking. 
While hiking during the summer in prickly heat, Sunburns and scratches are common to accompany you as well, along with irritated skin result in bugs or mosquito bites or irritating plants. Lavender oil can help relieve soreness, swollen skin and let you enjoy your hike or camping with pleasure. Moreover, Lavender oil is also a great oil for trouble sleeping and relaxation after having a tiring day on a camping
Lavender oil can be applying directly to your skin. However, you can add some drops of lavender oil in a spray bottle of water to spray it on your skin for sunburn relief.
Tea tree essential oil;
Tea tree oil is the most potent oil for maintaining healthy feet and oils. So, this oil is highly beneficial to keep your feet all ready to go on a long voyage in the sunny summer.  
Tea tree oil is the most potent oil for maintaining healthy feet and oils. So, this oil is highly beneficial to keep your feet all ready to go on a long voyage in the sunny summer. 
Before venturing off into the woods or going hiking, it is idyllic applying it on your hands and feet. Mosquitoes are the most likely widespread and bothersome of pests you will encounter while hiking. Mosquitos do not have good vibes with tea tree oil! You can add a few drops of tea tree oil in some coconut oil and rub it all over your skin as a powerful insect repellent. Moreover, it can be a significant part of your medical care kit because it helps faster healing of wounds and prevents microbes and germs.
Tea tree oil is ideal for healing insect stings, bug or mosquito bites, blisters, scratches that accompany you with time spent outdoors. 
Frankincense essential oil:
Frankincense oil is yet another good option to protect yourself from the burning sun while hiking or camping. All the time spent under the roasting heat can make your skin dry and irritating. You can add a drop of Frankincense oil to your facial lotions or moisturizers to provide your skin an essential summer glow and moisturize it to prevent dryness and scratches.
Frankincense oil supports cellular health and cellular formation and reconstruction. It is ideal for supporting soothing those muscles after a hike or any challenging exercises or workouts.
Lemongrass essential oils:
If you're hitting your trails for hiking or camping, be sure to take the Lemon oil along. Lemongrass essential oil has a refreshing, lime, lemony aroma that can be used to help keep away outdoor annoyances. 
Lemongrass essential oils are a great option for outdoor essential oils.
The most important property of the oil is its effect on the psyche, on the central nervous system, a general regulatory effect on the entire body. Some of the essential oils have a tonic, stimulating effect, relieve fatigue and increase efficiency.
Lemongrass essential oil improves your immune and circulatory system and helps you from catching a cold, and helps improve nausea which often people experience outdoors. Inhaling is particularly useful if you feel a cold coming on while outdoors. So, using it for your camping or hiking trips can be a turning point for you. 
---
---
---